(Tue. 6 June, 2023) – Music Generation Carlow (MGC) hosted its highly-anticipated end-of-year showcase last week in what was an unforgettable evening of musical accomplishment.
The concert featured exceptional performances by talented individuals, duos and groups from both county HUB programmes, as well as Reelig and ReelÓg, MGC's county ensembles.  The concert also featured a performance by alumni musicians of the MGC programme and an extraordinary showcase by MGC's professional musician educator team.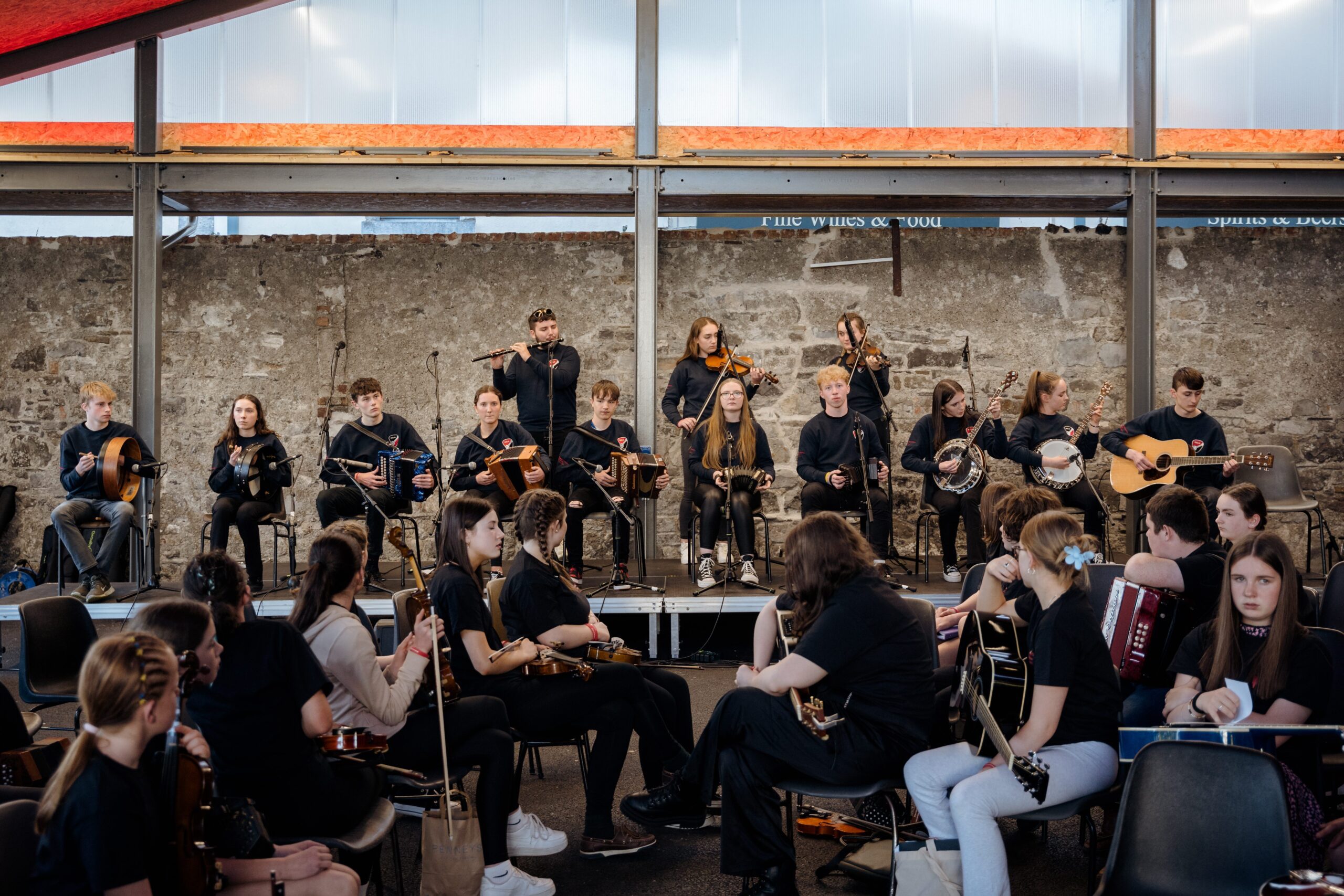 The concert was held in The Exchange, Carlow and this new creative space in the heart of Carlow town proved a wonderful backdrop to the event. Special guests included Music Generation National Director Rosaleen Molloy; KCETB Deputy Chairperson Cllr Andrea Dalton; Cathaoirleach of Carlow County Council Cllr Brian O'Donoghue and Cllr Tom O'Neill.
Each performance captivated the audience, from the HUB students who displayed incredible growth and talent, to the captivating arrangements played by the county ensemble members of Reelig and ReelÓg. In a bittersweet moment for the programme, Reelig's performance represented the final official contribution from two of its longest-standing members, Sonny Cahill and Cliodhna Murphy, who are progressing to third-level education.
Separately, the MGC alumni musicians added a touch of nostalgia, demonstrating how their musical journeys have flourished since their time with Music Generation Carlow. Their performances were a testament to the transformative power of music education and the lasting impact it has on individuals.
A highlight of the evening was the special performance by MGC's professional musician educator team, featuring HUB co-ordinator and lead traditional musician, Áine Donohoe, who produced the event.  The ensemble, comprising Paul Horahan, Paul Brett, Brian Murphy, Megan McDonald, Thomas O'Donoghue, Rachel Kavanagh, Diarmuid O'Neill and Áine Donohoe, demonstrated the expertise and artistry that MGC enjoys within the musician educator team. Their performance captivated the audience and served as an inspiration to all the young musicians present.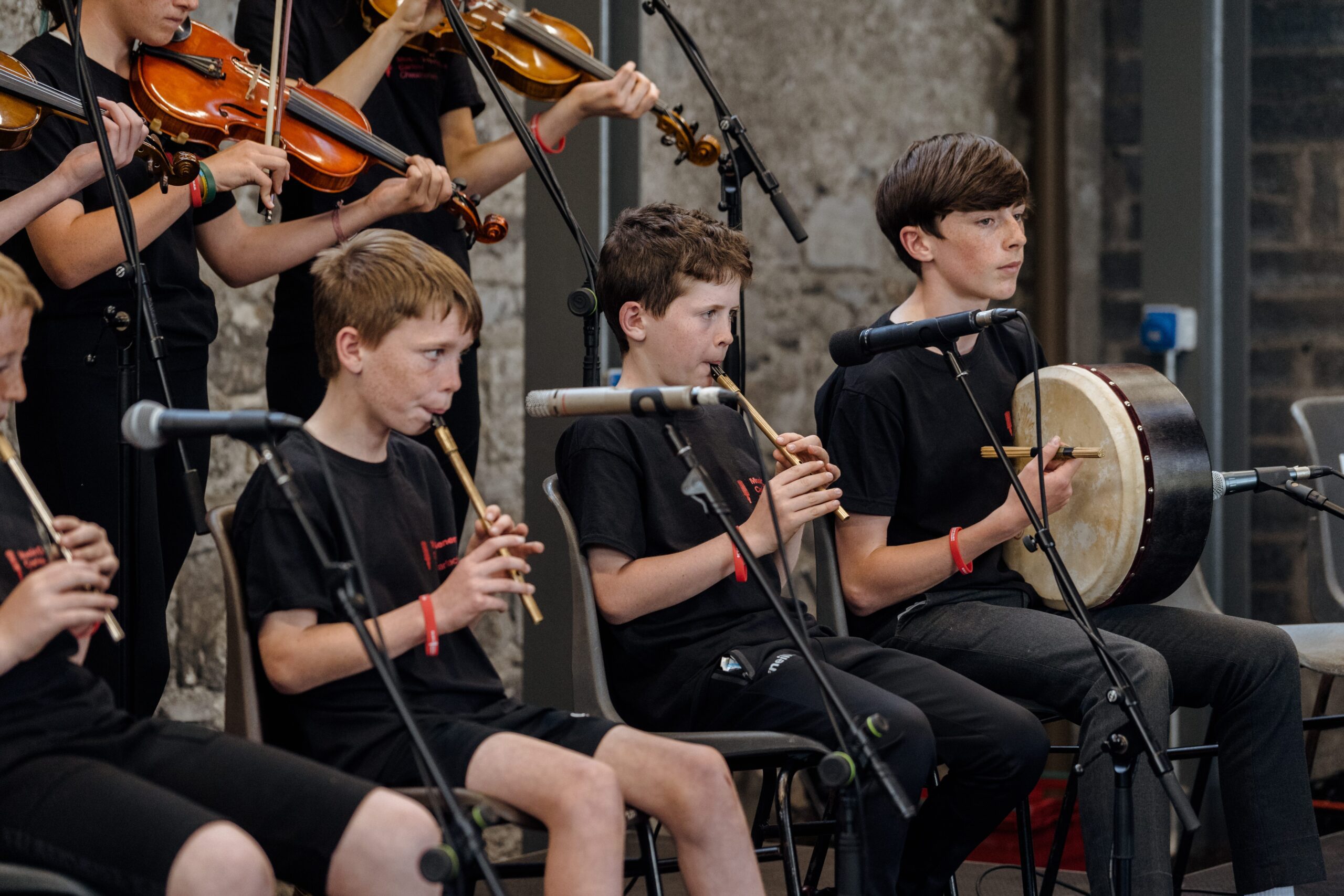 Commenting after the performance, Gavin Barr, who is Music Development Officer for Music Generation Carlow, said, "On behalf of the Music Generation Carlow team, I would like to extend my thanks and gratitude to all the performers, educators, supporters, and the Carlow community for making our end-of-year showcase a resounding success. I would also like to thank Cliodhna Murphy and Sonny Cahill for all their hard work and commitment to the MGC programme and wish them well in college. They will both be missed".
For more information about Music Generation Carlow and its programmes, please email musicgenerationcarlow@kcetb.ie
Main image caption: Young musicians Aoíse Gould, Áine Murphy , Katie Nolan, Claire Ryan, Orla McCann, Keeva Delaney, with teacher Brian Murphy, performing at the Music Generation Carlow end-of-year showcase