(Mon. 12 June, 2023) – Kilkenny Youthreach held its end-of-year ceremony last week in the gardens of Butler House that provided an idyllic backdrop to a poignant event that saw learners received academic, volunteering and personal achievement awards.
Kilkenny Youthreach is a full-time education programme that gives a second chance to early school leavers aged 15-20years.  Operated and managed by Kilkenny and Carlow Education and Training Board (KCETB), Kilkenny Youthreach offers young people the opportunity to achieve a Leaving Certificate qualification in an out-of-school setting and develop social and personal skills in a safe and supportive environment. Many learners progress to further education and training, and/or employment.
The graduation booklet carried the quotation "Let tomorrow be your second chance to prove you are better than today and yesterday" and celebration and pride in overcoming adversity were certainly big themes at the ceremony with wonderful contributions, in speeches and poems, from the students and musical performances from Terry and Melanie Byrne, and Conor O'Grady.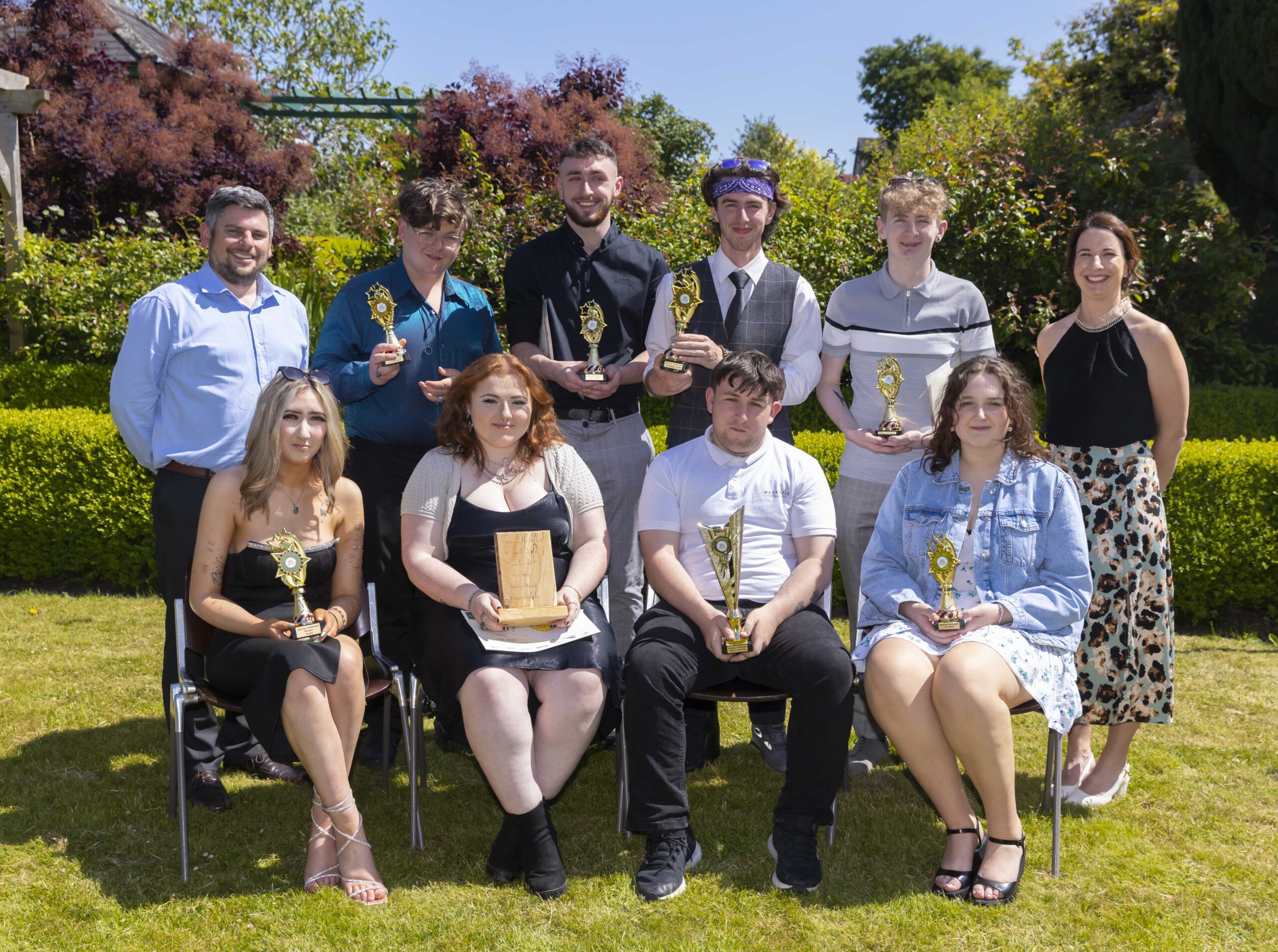 In her graduation speech, Rachel Kelly said, "School was never a strong point for me or for any of us here today. We have all had our fair share of struggles with school but found support and help here in this Kilkenny Youthreach centre. I gave my "blood, sweat and tears" for this moment. This is not the traditional secondary school experience that thirteen-year-old me dreamed of, but I wouldn't have it any other way. I've made it! I can officially say I've graduated."
Óisin Phelan, who was awarded Student of the Year, spoke eloquently before the distribution of awards. He said, "The last two years at Kilkenny Youthreach have been the best! A big thank you to all the teachers for their help and support over the last two years. We could not have done this without your help. We might have our ups and downs but really, we are all like a little family in Youthreach. In the two years I have spent here, I have become more confident and outgoing and ready for the next step in my future".
Caleb Cosgrave Butler recited a poem he had composed for the occasion entitled Not Goodbye, But See Ya Around, in which he said,
" In Youthreach we learned and grew,
gained knowledge and skills anew,
Memories made, friendships tight,
our futures are now shining bright."
Kilkenny Youthreach co-ordinator Michelle Murphy acknowledged the students' hard work, commenting,  "'Kilkenny Youthreach is a transformative place. I am very proud to see how far this year's graduating group have come over the past two years with us. While Youthreach offered you all the  support, encouragement and the space to grow, the credit has to be given to each one of you for taking on the challenge and being responsible for your own success".
í
Amongst those who received awards were: Oisín Phelan (Student of the Year); Amber Ryan (Woodworker of the Year ); Sophie Henderson (Artist of the Year); Jack Lanigan (Sportsperson Award); Rachel Kelly (Pinnacle Award); Stephen Dunphy (Endeavour Award); Terry Byrne (School Spirit) and Caleb Cosgrave (Best Attendance).
Kilkenny Volunteer Centre presented pins to the learners in recognition of their fundraising for the Irish Cancer Society and Gaisce Bronze medals were also presented to students for The President's Award. High praise was extended to the team from Kilkenny Youthreach that took home one of the top prizes in The B!G Idea Showcase.
KCETB Adult Education Office John O'Neill addressed the students at the awards. He commented,  "To our Youthreach students, I would like to conclude by saying that KCETB is proud of you; Youthreach is proud of you; but, most of all, I hope that you are extremely proud of yourselves."
Applications for academic year 2023-2024 currently accepted. Enquiries to info@kilkennyyouthreach.ie or 056-7723550.
Main picture image: Kilkenny Youthreach Awardees are pictured following the awards ceremony at Butler House Gardens, Kilkenny city