Music enthusiasts and young talents in south Kilkenny are in for a treat as an after-school music hub is set to launch in October with Music Generation Kilkenny, in partnership with Coláiste Cois Siúire, Mooncoin.
The initiative aims to provide a dynamic platform for local youth to immerse themselves in the world of music, fostering creativity, music skill development, and a lifelong appreciation for the arts. The programme will offer a diverse range of music education opportunities, catering to various interests and skill levels, thereby ensuring that every participant can find their passion and flourish in a supportive environment.
Speaking about the new music hub in south Kilkenny, Conor Power, Principal Coláiste Cois Siúire Mooncoin said, "We are thrilled to launch this after-school music hub in partnership with Music Generation Kilkenny. This initiative will undoubtedly enrich the lives of our students and the wider community in South Kilkenny, offering them a platform to discover their talents and express themselves creatively."
As part of the hub, students will have the chance to explore a range of instruments from acoustic and electric guitar to drums, singing and piano/keyboard with more instruments catered for as the music hub develops.  The after-school music hub will also emphasise the importance of collaboration and teamwork through ensemble experiences. Students will have the opportunity to participate in bands, helping them develop crucial interpersonal skills while creating exciting music together. There will be performance opportunities through concerts and community events with a programme designed to be inclusive and accessible to all interested students, regardless of their previous musical experience or background. Music Generation Kilkenny believes that every young person deserves the chance to explore their musical potential.
"At Music Generation Kilkenny, we are dedicated to nurturing a love for music within the community," commented Sinéad Blanchfield, Music Generation Kilkenny Development Officer. "We're excited to partner with Coláiste Cois Siúire and provide young musicians in south Kilkenny with a supportive environment where they can learn, grow, collaborate musically with their peers, develop friendships and shine".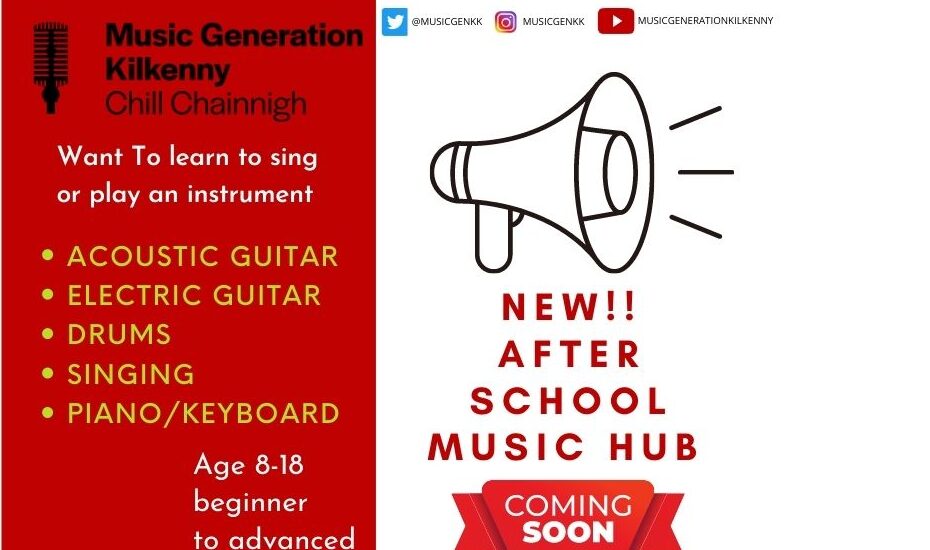 Enrolment for the after-school music hub is now open. Parents and students who are interested in learning more about the programme are encouraged to register on the following link: https://forms.office.com/e/eGeuPreig7  
For more information get in touch emailing musicgenerationkilkenny@kcetb.ie  , via facebook message @musicgenerationkilkenny or by phone: 056 7786896
About Music Generation Kilkenny:
Music Generation Kilkenny is a pioneering music education program providing high-quality, subsidised music tuition to thousands of children and young people in Kilkenny. The program is part of the Music Generation national initiative, co-funded by U2, The Ireland Funds, the Department of Education and Skills, and Local Music Education Partnerships. Locally, Music Generation Kilkenny is led by Kilkenny and Carlow Education and Training Board in partnership with Kilkenny County Council.
About Coláiste Cois Siúire Mooncoin:
Coláiste Cois Siúire is a post primary co-educational school located in Mooncoin, Kilkenny dedicated to providing holistic education and fostering the talents of its students. The school takes pride in nurturing a supportive and inclusive learning environment that encourages exploration and growth. Coláiste Cois Siúire is a Kilkenny and Carlow Education and Training Board school.
Main image caption: Music Generation Kilkenny young musicians participating in an event at Butler House earlier this year