Music Generation Kilkenny is calling on young singers aged 8-12 years to join its newly established Kilkenny Youth Choir.
Starting on Tuesday 18 April, Kilkenny Youth Choir will initially run for six weeks as an after-school pilot programme from 3.45pm-4.45pm on Tuesdays at the Friary Hall, Kilkenny.
The introduction of a youth choir by Music Generation Kilkenny follows the huge success of its SING OUT initiative, when four local primary schools performed in a joint choral concert at Christmas in St. Canice's Cathedral. Kilkenny Youth Choir is open to all aspiring young singers between 8-12 years. This will expand to include ages 13-18 as the choir grows and develops. No prior experience is necessary.
Speaking about the project, Music Generation Kilkenny Development officer Sinéad Blanchfield said, "As a professional singer myself, I feel passionate about nurturing the young singing talent in our county. Singing was a massive part of my own childhood growing up in Kilkenny. The idea is to give children the opportunity to develop their singing skills in a fun and engaging way, while growing in confidence and making new friendships".
Kilkenny Youth Choir will be directed by Barbara Kelly and Clare Kilkenny, who are both musician educators with Music Generation Kilkenny. Barbara and Clare were instrumental in the success of SING OUT, working with children in each participating school for six weeks leading up to the final sold-out concert that featured 200 children who received a standing ovation for their heart-warming performance.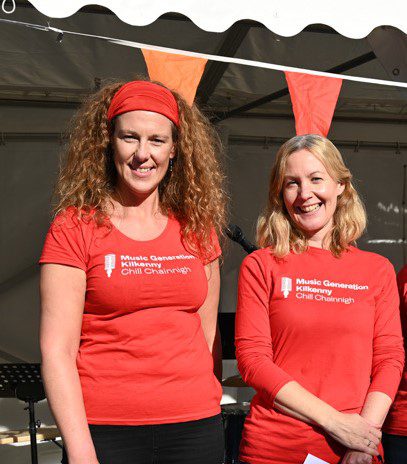 They bring their diverse talents to Music Generation Kilkenny, teaching whole class singing on the primary school vocal programme and small group singing after school on Thursdays at the Creative Music Space (The Drum, MacDonagh Junction Shopping Centre),  in addition to workshops and concerts.
Kilkenny Youth Choir's six-week pilot programme will include fun warm-ups, including body percussion, rhythm activities and part/round singing. These elements will prepare the young singers for the final presentation of songs.
 Registration is now open for Kilkenny Youth Choir via  email: musicgenerationkilkenny@kcetb.ie, Facebook message: @musicgenerationkilkenny or phone: 087 1765493.  The deadline for sign-up is Friday 31st March. The cost of the six-week pilot project is €30. Spaces are limited
Music Generation Kilkenny is part of Ireland's national music education programme, initiated by Music Network and co-funded by U2, The Ireland Funds, the Department of Education and Skills and Local Music Education Partnerships. The programme seeks to transform the lives of children and young people ages 0-18years by creating access to high quality, affordable music tuition in their localities. Locally, the programme is led by Kilkenny and Carlow Education and Training Board (KCETB) in partnership with Kilkenny County Council.
Main image caption: Kilkenny schools performing in Sing Out last December at St. Canice's Cathedral. Pic: Patrick Browne