(Fri. 3 March, 2023) –Staff, students and educational partners gathered to officially open the new €1.7million extension at Borris Vocational School this week, marking a new chapter in its development.
The ribbon-cutting honour was undertaken by Cllr. Fergal Browne in his capacity as chairperson of Kilkenny and Carlow Education and Training Board (KCETB). Borris Vocational School is under the auspices of KCETB which is also patron of an additional 12 post-primary schools and operates further education and training provision across the two counties of Kilkenny and Carlow.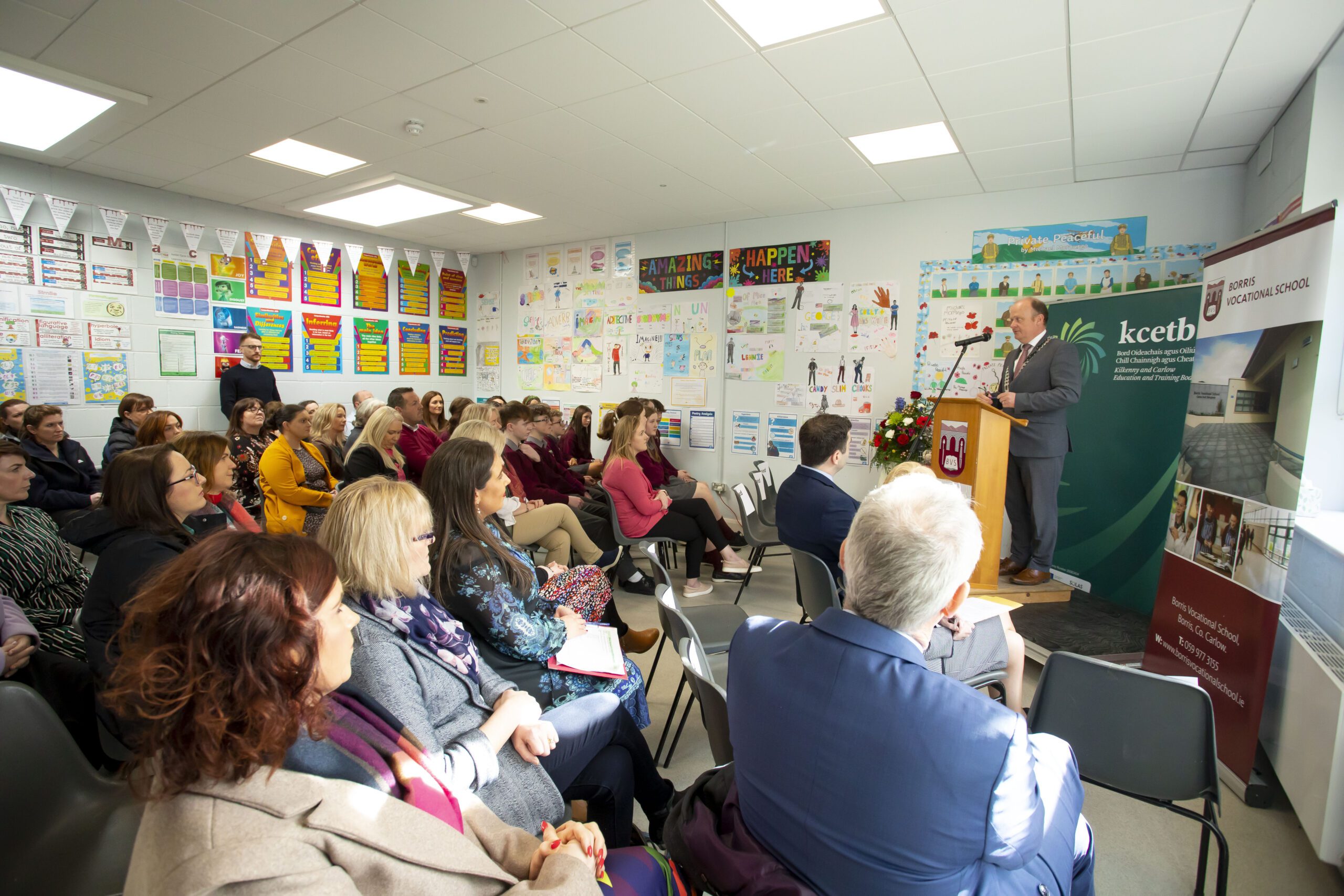 The happy occasion took place during the inaugural ETB Week, a week-long celebration of KCETB's students, staff, and services to mark ten years since it was established.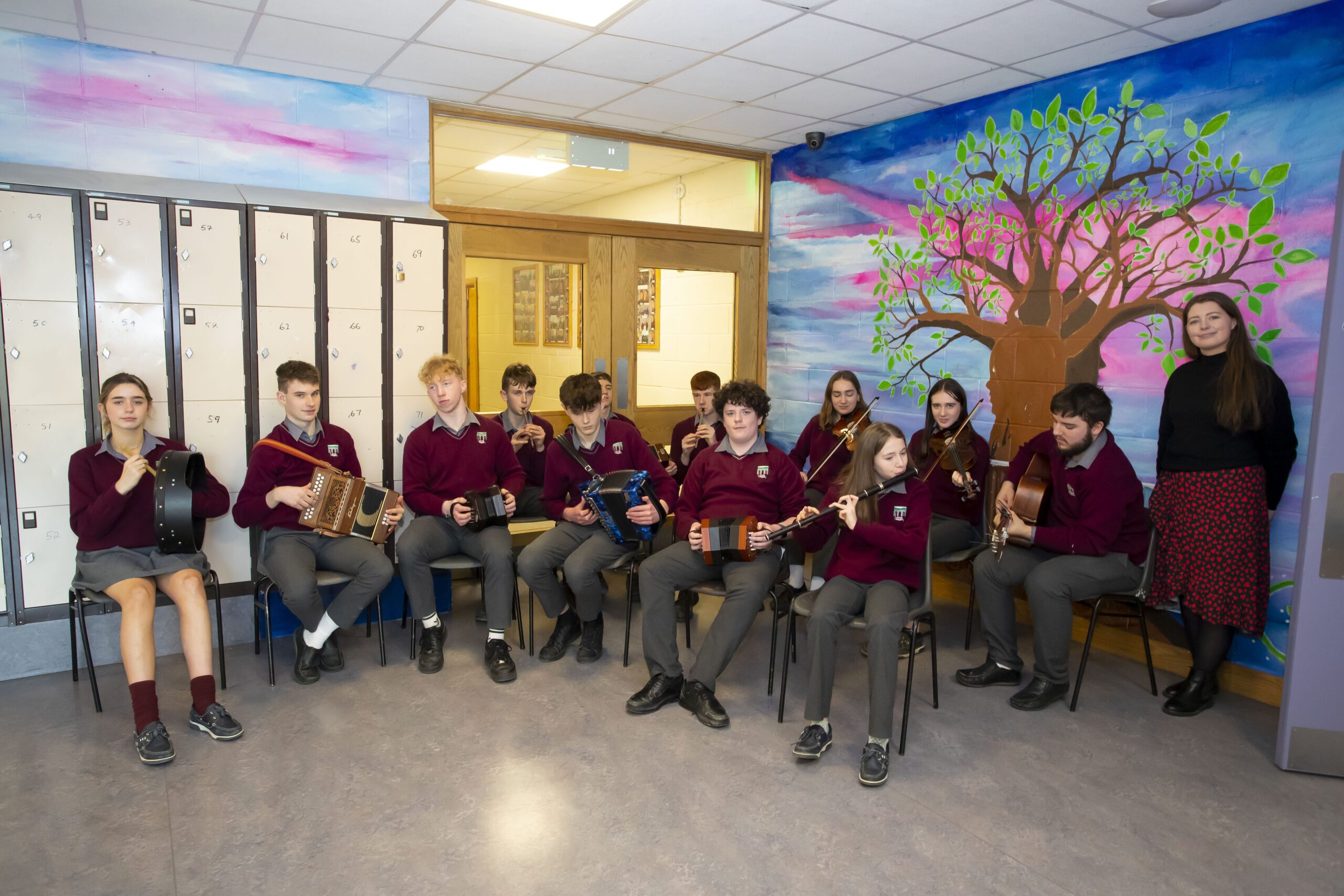 The 508m² extension at Borris Vocational School comprises three classrooms, staff and student bathrooms, a special education class, and an autism special class called Le Chéile. Designed by Dermot Geoghan Architects and built by Nolan Construction, the extension will cater for the needs of the school's 542 students and 60 staff members.
Cllr Browne and Eileen Curtis, the chief executive of KCETB, were welcomed to the event by Pat Coffey, the principal of Borris Vocational School. They were joined by Cllr Peter 'Chap' Cleere, who is chairperson of the school's board of management, Cllr Tommy Kinsella,  and other members of the board of management. Other attendees included KCETB's Director of Schools Dr Pauline Egan, Director of OSD Liam Scott and Head of Corporate Services Triona Delaney who were intrinsically linked to the progress of the project.
In his welcome, Borris Vocational School's Principal, Mr Pat Coffey said, "It is fitting that the official opening of this new extension coincides with the celebration of the 10th anniversary of KCETB, and the inaugural ETB week. This week celebrates the core values of excellence in education, care, respect, community and equality. We were lucky enough to host a showcase of these core values for all KCETB schools last May, and today we build upon that day with this celebratory event marking all that is great about this school community".
" A huge part of this new extension is Le Chéile, a welcoming hub for teaching and learning where all are celebrated. We are delighted with the success of Le Chéile which is coordinated by Ms Catriona Duggan. Its success is attributable to our teaching staff, SNAs, parents and the students all working collaboratively" said Mr Coffey.
"Every student at Borris Vocational School has different abilities and aptitudes and we value all of these here in our school through inclusive practices such as encouragement, praise, constructive feedback and development. Over the past two years, nine students have received over 600 points in their Leaving certificate, with two of these receiving maximum points", Mr Coffey added.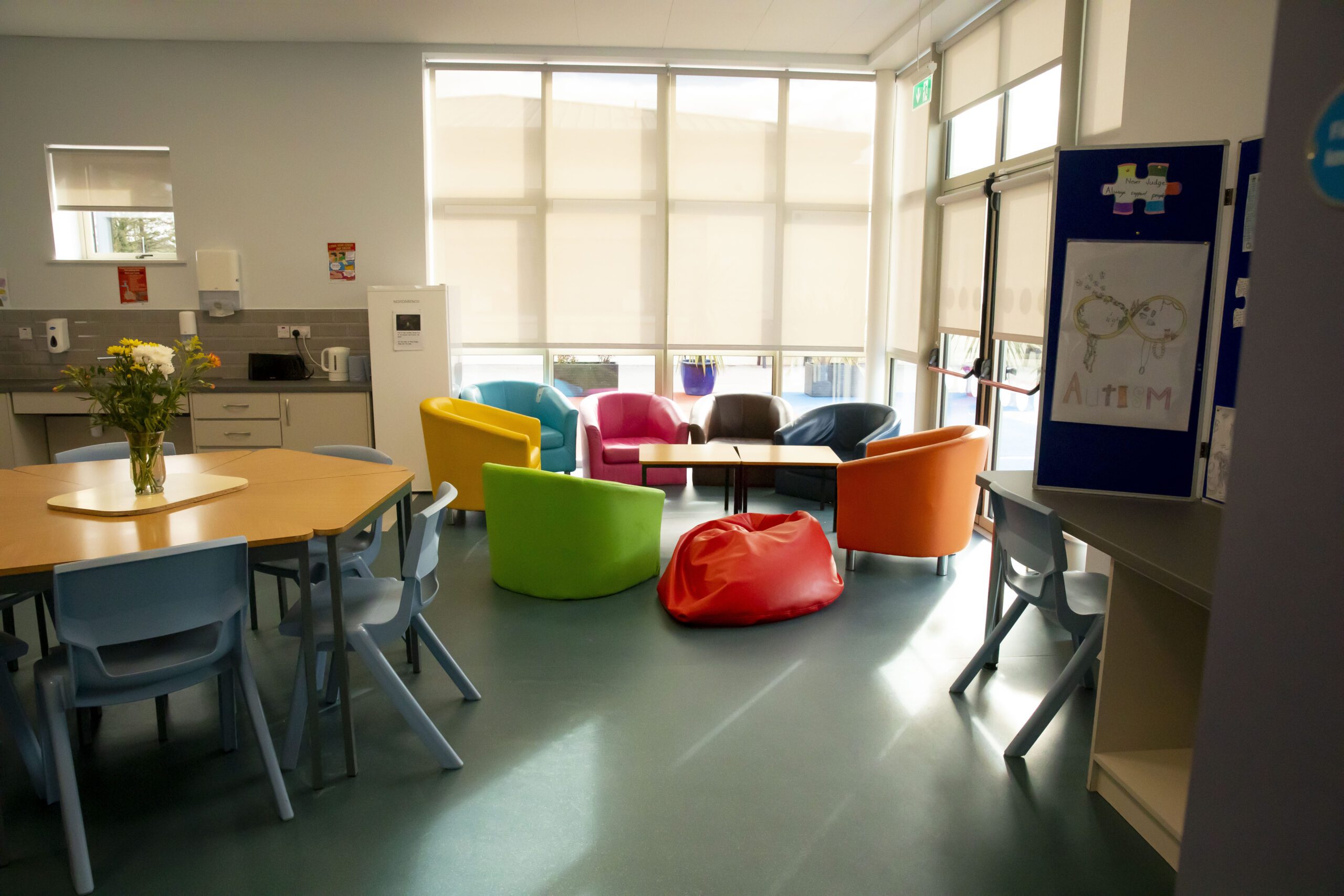 Speaking at the ceremony, KCETB Chief Executive Eileen Curtis commented, "This is a significant day for the staff and students of Borris Vocational School and for the Borris community. This new extension reflects the commitment of KCETB and the school management to providing the very best facilities and resources to the students in our care. This facility will serve Borris Vocational School well as it continues to grow and serve the needs of its students and the local community."
In his address, Cllr Browne said, "I am proud to open the new building at Borris Vocational School as we celebrate and formally acknowledge the breadth of provision that the new extension provides. It will go a long way in providing all students with equal opportunities to engage with the curriculum and with school life".
The students at Borris Vocational School were central to the event, with many student leadership teams coordinated by Acting Deputy Principal Sarah Doyle, participating in the opening.  Traditional music was performed under the direction of music teacher Aoife Smithers as part of the ceremony.
Main image pic: At the opening of the new extension at Borris Vocational School, from left: KCETB Director of Schools, Dr Pauline Egan; Chairperson of Borris Vocational School Board of Management, Cllr Peter Cleere; KCETB Chief Executive Eileen Curtis; KCETB Chairperson, Cllr Fergal Browne; Principal of Borris Vocational School Pat Coffey; Acting Deputy Principal Borris Vocational School, Sarah Doyle.